Kyle Richards Reveals Her Secrets to Staying Ageless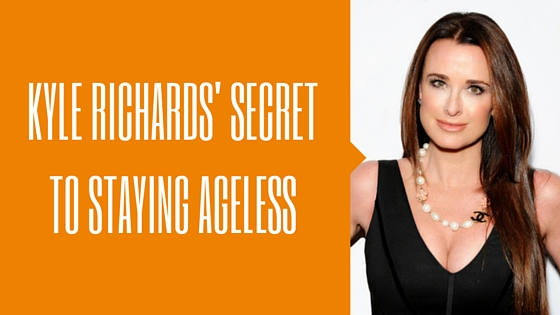 PHOTO VIA: Wikipedia
Now that season six of The Real Housewives of Beverly Hills has wrapped, Kyle Richards is focusing on her new role as an ambassador for SculpSure, the first light-based, 25-minute laser body-contouring treatment. At a recent event for the tightening fix, the child actress, mother and reality star sat down with us to share her favorite benefits of the treatment, the anti-aging tricks that make her TV-ready and the beauty routine that helps get thick, high-definition makeup off at night.
We've watched you through the years on Real Housewives of Beverly Hills, and you just don't seem to age! What's your secret?
I do age! I really try not to complain about it because I know the alternative is not good. So I'll take aging! But it is hard; I'm not going to lie. When I look back to when I started the show seven years ago, I've changed a lot. But what can you do? That's part of life.
I do fight it all the way within reason. I don't get too crazy, probably contrary to popular belief. I use Botox, but I don't believe in fillers, and I try everything else I can think of like using glycolic acid. I just did a laser treatment that's supposed to help with fine lines or brown spots, and I eat the right foods. I'm basically doing everything I can to look as good as I can for as long as possible.
What skin care and/or makeup lessons do you wish you knew when you were in your thirties?
I don't know about thirties, but I cannot begin to stress enough how much I regret going into the sun all those years. And I had no idea. I look at my friends who are more East Coasters and not California girls, and they don't have the freckling! I'm Irish, so I tend to get freckles.
I regret so much: I would lay there with baby oil and would get so burned I'd have to call the doctor. Horrible. Now I'm just happy that all of my daughters have olive skin. They didn't get my Irish skin. Even with that, I just tell them every day not to go out without sunscreen. Do not lie in the sun!
What makeup advice can you give women in their forties who are afraid to try bolder makeup looks?
I actually do my own makeup most of the time. I do my friends' makeup for their weddings sometimes and my daughters' for their bat mitzvahs, so I just love to play with it! Of course, there are certain things I don't think you should do. I got a little carried away with the glitter for this reunion, maybe, but I just think it's fun sometimes. It's just like fashion to me. It's fun to try new things, and I don't think that age should stop you from trying something new.
What's the best on-camera beauty secret you've learned from being a Real Housewife?
I do love to wear eyelashes on camera sometimes, but I've also learned over the years that they can make you look older. So I've started staying away from a strip of fake eyelashes and going back to how I used to do it with only mascara or mascara with some individual [fake lashes] on the end because that's a more natural, younger look.
You probably wear a lot more makeup on camera. What's your strategy to take it all off at night?
My mom was so fanatical about removing makeup. She taught my sisters and me to be like that, and my daughters are now the same. I could be coming home at a ridiculous hour, and I would not go to sleep with my makeup on. Now I use wipes to take it all off. And if I feel like I have too much foundation on, I'll use a Clarisonic in addition to the wipes.
People would kill for your brows. (I know I would!) How have you managed to keep them so thick and perfectly groomed through trends that called for thinner shapes?
When I was growing up my mom would not allow me to pluck my eyebrows, and it got to the point where it was really embarrassing. Then when I got to an age where I was rebellious and really wanted to [pluck them], my mom stressed that you have to have a signature look, and mine was the eyebrows. Having long hair and eyebrows, she kept telling me, was my signature look. So she kind of beat that into my head.
She had plucked her own eyebrows when she was younger and they never grew back. And I thought, Is that possible? But it is! I watched all my friends go through the trends of the plucked eyebrows and the drawn-on eyebrows, and I kept mine. I didn't actually tweeze them until I was in my twenties, but they were literally double what I have now. I just cleaned them up—and my mom was right because they never grew back! I don't do anything to my eyebrows now.
For a period of time I went to Anastasia, and she shaped them. Now people always ask, "Who do you go to?" I tell them that they never grew again, so this is it! Isn't that crazy? I told my daughters, who go to Anastasia religiously too, to make sure that they keep the shape because one day they won't need to go anymore, as the hair won't come back.
And your hair: It needs its own commercial! Tell us what keeps it so strong and shiny.
Just like I take care of my skin, I also take care of my hair. I think that some women kind of ignore that and focus on the style. I'm really cautious when styling it. I don't like to use a lot of heat. I won't put hairstyling tools on the highest temperature ever. I don't like a lot of product because I think it dulls the shine in your hair, and I'm fanatical about brushing it. I just brush really slowly from the bottom up, and then I'll brush through. Even with my hairdresser, who I've worked with now for eight years, I'll brush my own hair first and then she can. With my girls too, if I hear that snag sound, I tell them to stop because the hair is going to break and it's not going to come back! So I'm fanatical about that.
Discover If SculpSure Is Right For You! Click Here to Take the Quiz.
SOURCE: DERMSTORE