CynoSure Brings the Speed of Light to Non-Invasive Body Contouring: Introducing SculpSure
Innovative light-based technology reduces stubborn fat and delivers slimmer appearance in a 25 minute procedure, without surgery or downtime.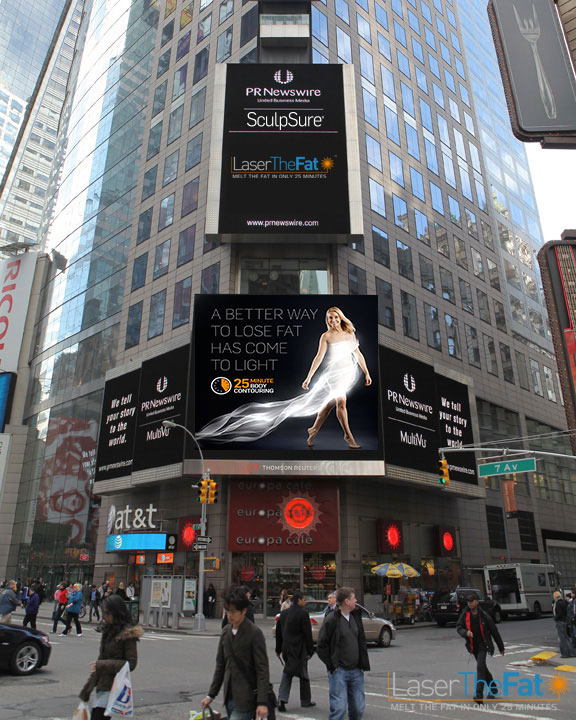 WESTFORD, Mass., Jan. 21, 2016 /PRNewswire/ — If your clothes could talk, what would they say? Is that little black dress a little too little or are last year's go-to pants now relegated to the back of the closet? Everyone has at least one piece of clothing in their closet they look at longingly, hoping to wear someday. However even with a healthy diet and regular exercise, fat in certain areas, such as the abdomen and love handles, can be particularly difficult to eliminate. In fact, 89% of Americans report feeling bothered by excess weight on their bodies.1 But now there's SculpSure, a breakthrough technology that reduces stubborn fat in problem areas for a more slender, sculpted figure, in just 25 minutes.
Developed by Cynosure, Inc. (NASDAQ: CYNO), the leader in laser and light-based aesthetic treatments, SculpSure is a safe and effective non-invasive treatment which eliminates up to 24% of treated fat2 in a 25-minute procedure with no downtime, so patients can return to their normal activities immediately. And this innovation couldn't come at a better time, since nonsurgical fat reduction procedures are one of the fastest growing categories in the aesthetics market, with a 42% increase in procedures performed from 2013 to 2014.3
"Based on the expertise gained through the development of products such as SmartLipo™ and Cellulaze™, we're thrilled to introduce SculpSure, an entirely new approach to non-invasive body contouring for men and women," says Cynosure Chairman and CEO, Michael Davin. "Most people have areas of stubborn fat that seem impossible to get rid of and SculpSure can help these patients achieve the noticeable results they're looking for with a treatment that fits into their busy lifestyles."
SculpSure's patented, breakthrough technology utilizes a selective wavelength laser that precisely targets fat cells under the skin. The laser raises the temperature of body fat to disrupt and destroy those subcutaneous fat cells, which are then naturally eliminated over time and do not return. The SculpSure device is also designed for maximum versatility, offering physicians the ability to customize treatment to each patient's desired results.
FDA cleared and clinically tested on over 100 patients, SculpSure works on all skin types and is intended for patients who are struggling with stubborn fat in common trouble spots. Multi-site testing yielded over 90% patient satisfaction, with results seen as quickly as 6 weeks and optimal results usually seen in 12 weeks.
"To be able to achieve this level of body sculpting without surgery or recovery time is a real game changer for the category," says Dr. Lawrence Bass, board certified plastic surgeon and a lead investigator in SculpSure clinical trials. "SculpSure is also comfortable and well-tolerated, with most patients feeling nothing more than a deep warming sensation."
About SculpSure
SculpSure non-invasive body contouring uses patented light-based technology to permanently eliminate fat cells in problem areas without surgery or downtime. SculpSure is clinically proven and FDA cleared for the reduction of fat in the flanks and abdomen. For more information, visit www.SculpSure.com.
About Cynosure, Inc.
Cynosure designs, manufactures and markets medical devices for aesthetic procedures and precision surgical applications worldwide. The Company's products enable plastic surgeons, dermatologists and other medical practitioners to perform non-invasive and minimally invasive procedures to remove hair, treat vascular and benign pigmented lesions, remove multi-colored tattoos, revitalize the skin, liquefy and remove unwanted fat through laser lipolysis, reduce cellulite, clear nails infected by toe fungus, ablate sweat glands and improve vaginal health. Cynosure also markets radiofrequency energy sourced medical devices for precision surgical applications such as facial plastic and general surgery, gynecology, ear, nose, and throat procedures, ophthalmology, oral and maxillofacial surgery, podiatry and proctology. Cynosure's product portfolio is composed of a broad range of energy sources including Alexandrite, diode, Nd: YAG, picosecond, pulse dye, Q-switched lasers, intense pulsed light and radiofrequency technology. Cynosure sells its products globally under the Cynosure, Palomar, ConBio and Ellman brand names through a direct sales force in the United States, Canada, Mexico, France, Germany, Spain, the United Kingdom, Australia, China, Japan and Korea, and through international distributors in approximately 120 other countries. For corporate or product information, visit Cynosure's website at www.cynosure.com.
1 American Society of Dermatologic Surgery
2 Single treatment of average reduction in fat volume as measured by MRI; Clinical and Histological Evaluations of a 1060nm Laser Device for Non-Invasive Fat Reduction – John W. Decorato, MD., F A C S. Rafael Sierra, Ph.D., Bo Chen, Ph.D., Westford, MA, 2014.
3 American Society for Aesthetic Plastic Surgery
PHOTO: Cynosure, Inc.
SOURCE: Cynosure, Inc.
To view the original version on PR Newswire, Click Here.