Cynosure Receives FDA 510(k) Clearance for SculpSure, the World's First Hyperthermic Laser Treatment for Non-Invasive Fat Reduction
Device is Initially Indicated for Non-Invasive Lipolysis of Flanks; Company Targeting U.S. Launch in Late 2015
WESTFORD, Mass., May 19, 2015 /PRNewswire/ — Cynosure, Inc. (NASDAQ: CYNO) a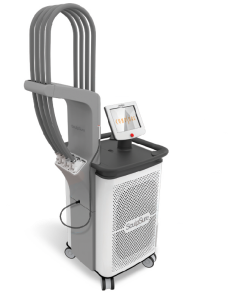 leader in laser- and light-based aesthetic treatments, today announced that it has received 510(k) clearance from the U.S. Food and Drug Administration (FDA) to market SculpSure™, the world's first hyperthermic laser treatment for non-invasive lipolysis of the flanks. Cynosure plans to introduce SculpSure through its U.S. direct sales force late in the second half of 2015.
Utilizing patented technology, SculpSure is a clinically proven and safe treatment designed to reduce fat non-invasively by disrupting subcutaneous fat cells. The versatile, hands-free device features a flexible applicator system to treat multiple anatomical areas of the body. SculpSure, which uses a 1060 nm laser, can treat an anatomical area in approximately 25 minutes. Patients are able to achieve desired results without downtime or surgery.
"SculpSure represents an entirely new approach to non-invasive lipolysis, one that is safe and highly effective in reducing adipose tissue and does so in significantly less time than other current treatments," said Cynosure Chairman and CEO Michael Davin. "We believe that the combination of these benefits enables us to offer practitioners the lowest total cost of ownership of any non-invasive lipolysis treatment on the market today, which in turn significantly enhances their return on investment."
Abstracts presented at the 2015 American Society for Laser Medicine and Surgery Annual Conference featured clinical data from approximately 100 subjects treated with SculpSure in multicenter studies at two U.S. sites. Researchers saw statistically significant reduction in adipose layer thickness, six and 12 weeks post-treatment. SculpSure is intended for individuals with a body mass index (BMI) of 30 or less. According to the World Health Organization, in 2014 approximately 1.3 billion adults 18 years and older worldwide were overweight.
"While SculpSure is our first non-invasive lipolysis treatment, the device leverages the expertise we have gained through the successful development and commercial launch of products including SmartLipo™ and Cellulaze™," Davin said.  "It is a customer base and a treatment area we know extremely well. This clearance marks an important step in a broader marketing strategy that includes expanded treatment indications and new geographic markets.  Currently, for example, we are pursuing FDA 510(k) clearance of SculpSure for non-invasive lipolysis of the abdomen, one of a number of potential catalysts we believe will help drive adoption of this technology."
About Cynosure, Inc.
Cynosure designs, manufactures and markets medical devices for aesthetic procedures and precision surgical applications worldwide. The Company's products enable plastic surgeons, dermatologists and other medical practitioners to perform non-invasive and minimally invasive procedures to remove hair, treat vascular and benign pigmented lesions, remove multi-colored tattoos, revitalize the skin, liquefy and remove unwanted fat through laser lipolysis, reduce cellulite, clear nails infected by toe fungus, ablate sweat glands and improve vaginal health. Cynosure also markets radiofrequency energy sourced medical devices for precision surgical applications such as facial plastic and general surgery, gynecology, ear, nose, and throat procedures, ophthalmology, oral and maxillofacial surgery, podiatry and proctology. Cynosure's product portfolio is composed of a broad range of energy sources including Alexandrite, diode, Nd: YAG, picosecond, pulse dye, Q-switched lasers, intense pulsed light and radiofrequency technology.  Cynosure sells its products globally under the Cynosure, Palomar, ConBio and Ellman brand names through a direct sales force in the United States, Canada, Mexico, France, Germany,Spain, the United Kingdom, Australia, China, Japan and Korea, and through international distributors in approximately 120 other countries.  For corporate or product information, visit Cynosure's website atwww.cynosure.com.
Forward-Looking Statements
Any statements in this press release about Cynosure's receipt of FDA 510(k) clearance for SculpSure, as well as other statements containing the words "believes," "anticipates," "plans," "expects," "will" and similar expressions, constitute forward-looking statements within the meaning of The Private Securities Litigation Reform Act of 1995. Actual results may differ materially from those indicated by such forward-looking statements as a result of various important factors, including the market acceptance of SculpSure, levels of demand for procedures performed with Cynosure products and for Cynosure products themselves, competition in the aesthetic laser industry, general business and economic conditions, effects of acquisitions that Cynosure has made or may make, Cynosure's ability to develop and commercialize new products, Cynosure's reliance on sole source suppliers, the inability to accurately predict the timing or outcome of regulatory decisions, and economic, market, technological and other factors discussed in Cynosure's most recent Annual Report on Form 10-K which is filed with the Securities and Exchange Commission. In addition, the forward-looking statements included in this press release represent Cynosure's views as of the date of this press release. Cynosure anticipates that subsequent events and developments will cause its views to change. However, although Cynosure may elect to update these forward-looking statements at some point in the future, it specifically disclaims any obligation to do so. These forward-looking statements should not be relied upon as representing Cynosure's views as of any date subsequent to the date of this press release.
Contact
Scott Solomon
Vice President
Sharon Merrill Associates
617-542-5300
cyno@investorrelations.com
SOURCE Cynosure, Inc.